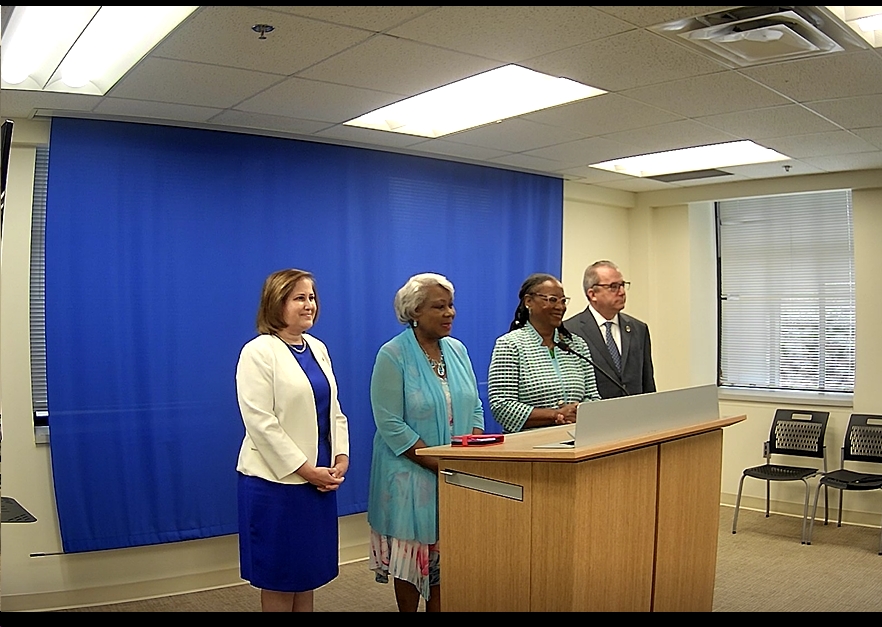 Video: VA Senate Democrats hold press conference to push back against Glenn Youngkin's 'attempt to whitewash the history our children are learning in school', 'Relentless Attacks on Public Education'
From the VA Senate Democratic Caucus:

Virginia Senate Democrats Hold Press Conference on Future of History Education in Virginia
RICHMOND, Va.: Today, members of the Virginia Senate Democratic Caucus held a press conference following Superintendent Jillian Balow's August 17, 2022 announcement to further consider proposed changes to the program of social studies and history in Virginia. The video of the press conference is available here.
Senator Louise Lucas, president pro tempore and chair of the education and health committee, said: "This week, the State Board of Education – now controlled by appointees by Youngkin – voted no to approving newly revised K-12 story standards. The Governor and his administration have chosen to block approval of the High Quality Objective Standards which have been developed by many historians working tirelessly to produce high quality standards for our children to benefit from. These standards should not be watered down and whitewashed.
"Governor Youngkin is overstepping his constitutional authority to try to whitewash the history our children are learning in school. We demand that the State Board of Education honor its constitutional obligation and adopt these standards immediately.
Senator Mamie Locke, Caucus Chair and Chair of the Higher Education Subcommittee, said, "The Governor, his Secretary of Education, his Superintendent of Public Instruction and appointees to the Board of education have delayed the report because they are no longer interested in updating the reality of history, but instead banning and banishing anything that does not support their ideological game plan. Rest assured that this update will not include any reference to the January 6 insurrection, the history of racism in Virginia, and other events that do not fit into their ideological agenda.
"Governor Youngkin, at all times, has attacked public education from day one by emphasizing 'inherently divisive concepts', the 'Big Brother' line of advice to teachers, and the hand-picked facts that distort student success. Senate Democrats will guarantee the integrity of Virginia's public schools and will not allow this administration to devalue our teachers, our students, or our standards of education. We will not engage in alternative facts – truth is truth, reality is reality. We will ensure that this reality reaches our classrooms.
Senator Ghazala Hashmi, chair of the public education subcommittee, said, "The school board initiated the process of reviewing history and social studies standards almost two years ago. The Board of Trustees, along with a committee of program managers and higher education faculty members, have met several times to discuss the revision of the standards. But this week, Superintendent Balow said she had asked the Fordham Institute to review the recommended changes and they had identified some issues that needed to be addressed.
"We have to ask ourselves: what is the purpose of adding the Fordham Institute to this hour after midnight, when the work of developing our standards is complete? What I suspect is that the real intent of the delay is to revise the standards through the specific prism of the Youngkin administration, its business partners, and special interest groups whose intent is to whitewash our books. of history and not allow for a fuller representation of the rich diversity that is part of our American heritage and history.
CONTEXT
On Wednesday, August 17, the Virginia Board of Education delayed a discussion on the future of the history curriculum in Virginia public schools, despite the mandate for public hearings to be held in August. Board chair Dan Gecker says board members received the draft program guidelines for seven months, and the process received more than 5,000 comments from experts and the public — more than enough information. and feedback to revise the program appropriately.
Superintendent Jillian Balow asked the Fordham Institute to review the draft standards. Fordham has been described by Industry Watch as a right-wing education policy think tank. They've promoted policies like the "Freedom Framework" that removes conversations about racism and slavery from social studies education and pushes hard for school choice — a portmanteau for mainstream public school funding.
Several of Governor Youngkin's education appointees actively worked to dismantle public education in Virginia and other states:
Education Secretary Aimee Rogstad Guidera

Former president and CEO of the Data Quality Campaign – a non-profit organization dedicated to collecting education data with a focus on performance gaps – which has proven to be an inaccurate way to measuring student success

Jillian Balow, Superintendent of Public Schools

Previously held the same position in Wyoming

Approved a bill requiring the publication of a list of all teaching materials, which was described by his bosses as an effort to prevent "the indoctrination found in the critical race theory curriculum that has been pushed by far left and has found its way into some classrooms.
The bill would also require the program to include that 'slavery and racism' have ended

Biden publicly opposed initiatives to increase diversity in education

Assistant Superintendent of Public Schools Elizabeth Schultz

Senior Fellow for Parents Defending Education – a "national grassroots organization working to reclaim our schools from activists promoting harmful agendas" – which in itself is a harmful agenda

School Board Members:

Grace Turner Creasey
Bill Hansen

Incoming chairman and CEO of Building Hope, an organization that champions charter schools, siphoning off funding from mainstream public schools
General Partner of Green Street Impact Partners, which creates opportunities for private investment in education, giving governance power of public schools to private investment firms

Andy Rotheram

Co-founder and partner of Bellwether Education Partners, a group that works to establish charter schools and other educational alternatives that would take funding away from schools that need it most