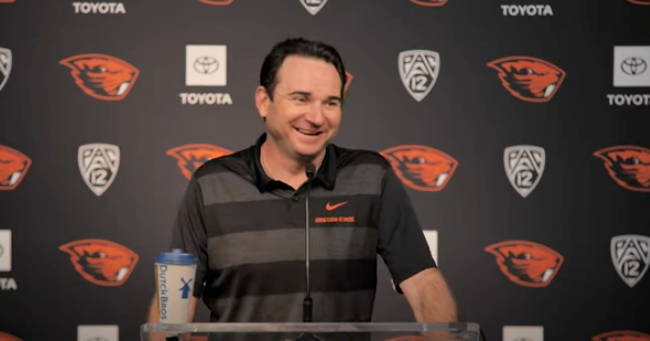 Takeaways from Jonathan Smith's week twelve press conference
Smith praised the offensive coordinator Brian lindgren after Saturday's game. He felt that Lindgren qualified a great game and put his players in a position to succeed.
"He did a good job throughout the year," said Smith. "It's not just him; he has a great group that he works with. I felt like he put Chance in good situations, let him use his feet a bit, finished, took a few hits – hadn't hit them all , so he had a good mix there. I don't think it's easy when you have three fullbacks that are really ordering more reaches than they get, keeping them fresh and mixing the outdoor run with the indoor run, playing an action pass.
Smith himself made a decision on the offensive end of the ball that angered many Beaver fans. On the 4th and 1st on the Oregon State midfielder's side, he kept the offense on the field for a failed conversion attempt. He explained the decision on Monday.
"I felt like if we were going to be called short, it was going to be barely short," he said. "Part of that, you own the ball, there's an analytical part of that where they're looking at the 4th and 1st conversion rates across the country in midfield is over 75-80%. Feeling confident in where we were sending the ball. We talk to our team. There are going to be times when we're going to try to finish fourth, and yes, defense, you have to respond. I just had the feeling that at that point, let's go get it.
Regarding the play call itself, the decision to go with a transfer rather than a sneak QB or a Jack Colletto running was on Lindgren. In fact, Smith didn't fully understand the call.
"Ask Brian about it," he said, "I'm kinda with you on that. "