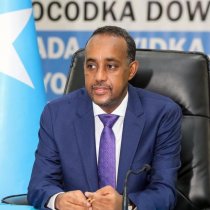 Press release Response to the Villa Somalia statement of December 26, 2021 on the ongoing national elections
Date: 26th December 2021 The Prime Minister of the Federal Republic of Somalia, Mohamed Hussein Roble is disappointed with the 26th December 2021 statement from the Office of the President on the ongoing national elections.
The President's statement was intentionally aimed at disrupting the ongoing national elections currently taking place across the country.
Given the timing of the statement from the Office of the President after the Prime Minister announced an upcoming meeting of the National Advisory Council to expedite the elections and enhance the transparency and credibility of the electoral process, it is unfortunately clear that the President is determined to disrupt the next consultative forum; a move that speaks to the president's unchanging desire to further prolong the ongoing national elections for his own self-interest.
During his tenure, the President unfortunately invested so much time, energy and money in thwarting national elections and seeking an illegal term extension, which undermined ongoing efforts to expedite national elections and allow the country to hold peaceful elections.
Since the Prime Minister assumed the role of managing the elections, the President has proven to be an obstacle to the implementation of the agreed electoral guidelines and has employed various persistent tactics – one after another – with a view to derailing the electoral process.
However, Prime Minister Roble has pledged to lead the national elections to ensure the process is free, fair and inclusive for all Somalis, especially presidential candidates, and it will not be acceptable to allow a particular presidential candidate to exploit the process in his favor.
We therefore reaffirm to the Somali public that the Prime Minister, together with the National Consultative Forum, will continue to guide the elections and that the scheduled NCC meeting will take place in Mogadishu as planned.
The Prime Minister is relentlessly engaged in consultative discussions with civil society groups, presidential candidates and the international community to listen to their recommendations on election transparency and the finalization of elections to the House of the People, and all proposals will be deliberated on the next NCC gathering.
The Prime Minister reminds the Somali public and the international community that it is time to collectively thwart any attempt to undermine peace and institution building in Somalia. Executing his constitutional obligations as stipulated in the Interim Federal Constitution and acknowledging the political agreements that tasked him with leading the elections and the security of the country, the Prime Minister assures the Somali public that he, in collaboration with the NCC, will pursue its efforts to finalize the elections while preserving the credibility of the process with a broad consensus. The only way out of the current challenges is to join hands, speed up the ongoing national elections and lead the country towards a peaceful transition of power.