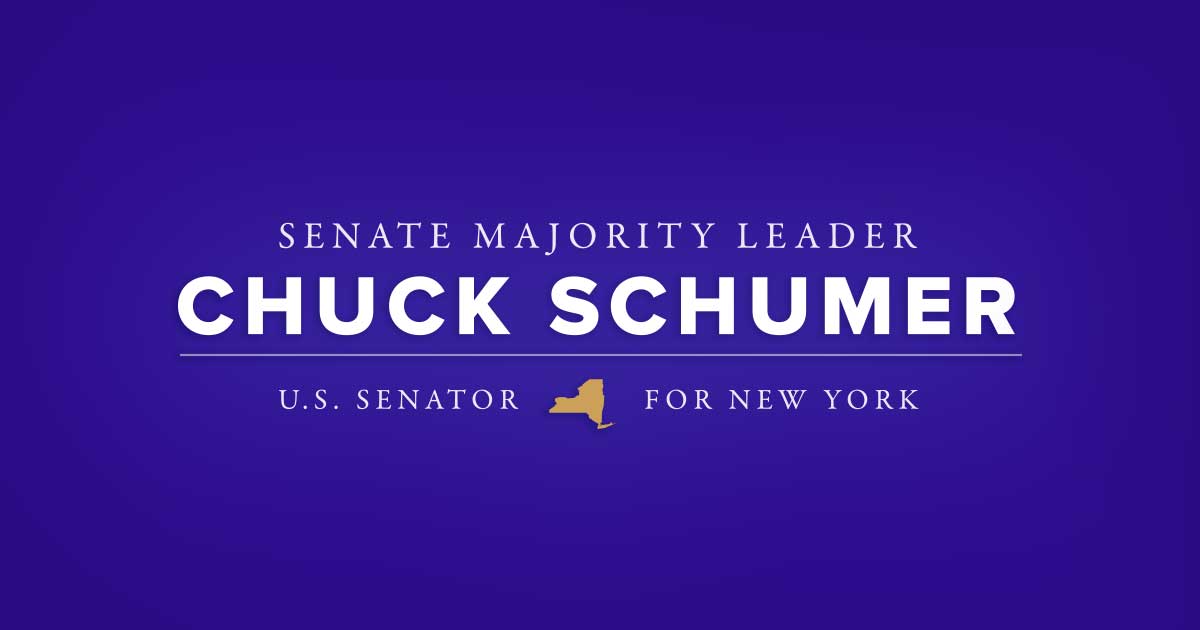 Press release | Press Releases | Writing
21.01.22
After learning that SkyWest was planning to leave, Schumer immediately took action to protect the northern air service
The senator wrote directly to Secretary Buttigieg asking the USDOT to temporarily prohibit the termination of essential air service until a new carrier is found, and to immediately begin work to identify a new carrier
Following his direct defense of Plattsburgh and Ogdensburg International Airports, U.S. Senate Majority Leader Charles E. Schumer announced that the U.S. Department of Transportation (USDOT) responded to his call and released today a Restraint Order to prohibit SkyWest's termination of Essential Air Service (EAS) temporarily. SkyWest will now have to maintain the current level of service until the conclusion of the EAS selection file.
"Reducing essential air service to Ogdensburg and Plattsburgh airports is the wrong way forward for Upstate New York. I'm glad the USDOT responded to my call to issue a restraining order to temporarily maintain service as they work quickly with local stakeholders to identify a new carrier to provide EAS at Plattsburgh and Ogdensburg International Airports," said Senator Schumer. "As the North Country continues to recover economic impacts of the COVID-19 pandemic and the prolonged closure of the northern border, maintaining consistent and reliable air service to other hubs across the United States is essential for the region. fight to ensure the North Country receives the reliable air service its community and businesses need to succeed.
Schumer has long fought to maintain air service in upstate New York. Senator Schumer has lobbied to include more than $418 million in the US bailout to provide hard-hit New York airports with the relief they desperately need, including $1.1 million for the international airport of Ogdensburg and over $2.1 million for Plattsburgh International Airport. Then, building on his advocacy, Schumer followed up that relief by securing an additional investment of more than $937 million through the bipartisan Infrastructure Investment and Jobs Act over five years, including over $5.1 million for Ogdensburg International Airport and over $7.63 million for Plattsburgh International Airport.
The EAS program was developed after the deregulation of the airline industry in 1978. Deregulation gave airlines the freedom to decide which markets to serve and how much to charge for that service. This led to a shortage of air service in many communities across the country where operating costs were higher and populations were smaller and less dense. The EAS program was established to ensure air service to these underserved communities. EAS guarantees that commuter airlines across the country serve approximately 140 rural communities, including six communities in upstate New York: Watertown, Jamestown, Massena, Ogdensburg, Plattsburgh and Saranac Lake/Lake Placid.
A copy of Schumer's original letter to Transportation Secretary Buttigieg appears below:
Dear Secretary Buttigieg:
As you know, SkyWest Airlines will end its Essential Air Service (EAS) at Ogdensburg International Airport (OGS) and Plattsburgh International Airport (PGB) by April 11, 2022. These airports offer essential services in Upstate New York, and as such any disruption in service threatens the well-being of these communities. In light of this, I request that the United States Department of Transportation (USDOT) work expeditiously to identify a new carrier to provide essential air services to Ogdensburg and Plattsburgh, New York, to issue a restraint order prohibiting SkyWest from terminate service at either airport until a new air carrier commences full EAS service, and meet with airports about this.
Both Ogdensburg and Plattsburgh airports remain vital in connecting New York State's North Country region to the nation, and both airports have seen promising growth over the years. In fact, the Federal Aviation Administration (FAA) estimates that more than 300,000 passengers will pass through PLB by 2030, and OGS saw a record 22,000 passengers pass through its airport in 2019. These airports are indispensable assets to the economic growth of these communities and connectivity with the world. However, as the country grapples with the ongoing effects of the COVID-19 pandemic, the airline industry has struggled to cope with the various economic and labor challenges associated with this new crisis. Like many airports across the country, travel through Ogdensburg and Plattsburgh airports has declined significantly, and airlines such as SkyWest continue to struggle with labor shortages.
For these reasons, I call on the DOT to work immediately to find a new carrier for Ogdensburg and Plattsburgh International Airports, and to issue a restraint order to prevent any disruption in service until a new carrier is be found. I also ask you to meet the sponsors of the airport in order to inform them and collaborate in your efforts to find a new carrier. I appreciate your attention to this pressing matter.
Truly,
###
---
---
previous article next article