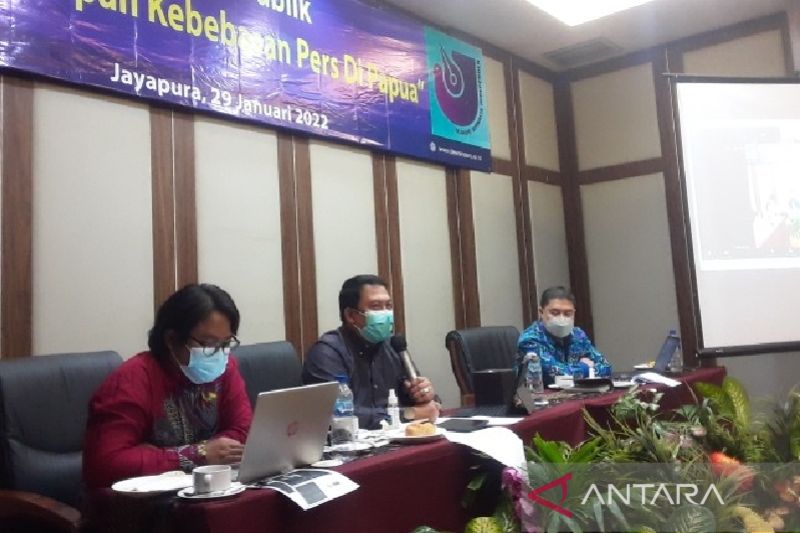 Press Council calls freedom of the press in Papua 'fairly free'
Jayapura, Papua (ANTARA) – Press freedom in Papua has been rated as "fairly free", with the province scoring 68.87 on the 2021 Press Freedom Index (IKP) to rank 33rd out of 34 provinces, the Indonesian Press Council informed.
"IKP placed Papua Province 33rd out of 34 provinces, down 1.16 points from 2020 (when its score was recorded) at 70.04," remarked Ms. Agung Darmajaya, member of the Indonesian Press Council, during a public debate on the future of press freedom, in Jayapura, Papua, on Saturday.
In 2020, Papua province's press freedom index was for the first time in the "fairly free" category, he added.
"One of the factors that affected the score was poor coordination between local government and journalists," he said. The local government has not provided a place reserved for journalists, he explained.
The distribution of information has not been transparent and there have been some incidents of violence against journalists, including physical violence, intimidation, terror and the destruction of reporting equipment, he said. said.
Factors that affected the score include intimidation and criminalization of journalists, Darmajaya added.
Related News: Minister Plate reviews telecommunications services in Papua PON XX
"For example, there was the case of a journalist who was expelled while covering the news. On the other hand, there were errors in the reporting due to the lack of professionalism of the media ", he explained.
As a result, 27 cyber media outlets were reported to the Press Council following complaints of false reporting, he said.
"The bright side is that there is more training for journalists this year, organized by journalists' organizations in collaboration with local NGOs," Darmajaya said.
Public discussions on the future of press freedom in Papua have also received a positive response from the Indonesian Journalists Association, the Presidential Personnel Office, the National Human Rights Commission (Komnas HAM), Military Resort Command 172/PWY, Papua Police, religious figures, and media representatives, he added.
Related News: Papua PON: Ministry and local government prepare facilities for journalists