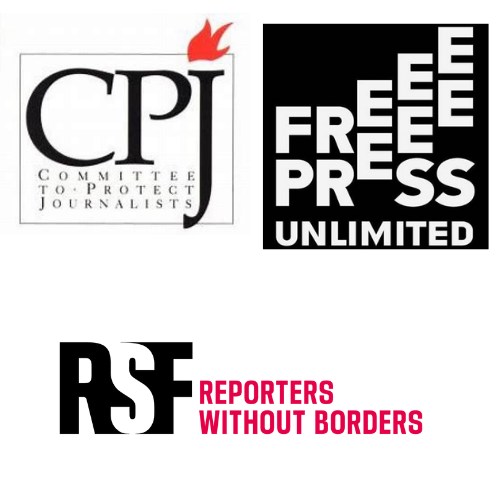 People's court formed by press freedom groups to hold Sri Lanka "accountable" and "investigate murdered journalists"
[ad_1]
Three major press freedom groups have created a People's Court to "investigate their murders and hold governments to account" in a bid to seek justice for the murders of journalists, with an opening hearing that will be held on November 2, 2021 in The Hague.
The Tribunal, a form of mob justice, "relies on high-quality investigation and legal analysis of specific cases in three countries." Free Press Unlimited (FPU), Reporters Without Borders (RSF) and the Committee to Protect Journalists (CPJ) have called on the Permanent People's Tribunal (PTT) to convene a People's Court over the murder of journalists. Since 1992, more than 1,400 journalists have been assassinated and in eight out of ten cases where a journalist is assassinated, the killers are released. "The People's Courts are designed to hold states accountable for violations of international law by raising public awareness and generating a legitimate evidence file." The People's Court for the Murder of Journalists will indict the governments of Sri Lanka, Mexico and Syria for failing to deliver justice for the murders of Lasantha Wickrematunge, Miguel Ángel López Velasco and Nabil Al-Sharbaji.
Murder of Lasantha Wickrematunge
Former Sunday Leader lawyer, co-founder and editor Lasantha Wickrematunge was a fierce critic of the various human rights violations perpetrated by the Rajapaksa government and the corruption of its ministers. He also spoke out against the war efforts against the Tamils ​​in the northeast.
Wickrematunge and his newspaper were particularly critical in the coverage of Prime Minister Mahinda Rajapaksa, then president and current accused of war crimes. A year before his assassination, the president called him shouting that he would be killed if he continued to criticize the state. He was shot dead in Colombo on January 8, 2009.
Wickrematunge's daughter has been campaigning for justice since her father's murder greeted and supported the Sri Lankan government's lawsuits.
Proud to support @SaferTruth Sue in court #LKA Government in The Hague for its role in the murder of Lasantha Wickrematunge. The proof of who had my father killed will be revealed to the world. No immunity here, so ultimately my family gets something like a day in court https://t.co/eXWPsLsGB1

– Ahimsa Wickrematunge (@awickrematunge) September 29, 2021
"The MiG agreement: why my father had to die"
Sri Lanka guilty of genocide
In 2013, the Permanent Peoples' Tribunal (PTT) unanimously ruled Sri Lanka guilty of genocide during its sessions held in Bremen, Germany. Stressing that Tamils ​​in northeastern Sri Lanka are Eelam Tamils, the court ruled that Sri Lanka had requested the destruction of their identity, noting that this process had started before the armed conflict and that it continued. still continues to this day.
The panel also ruled that the United States of America and the United Kingdom were complicit in the genocide, while India's involvement warrants further investigation.
The tribunal, headed by Secretary-General Gianni Tognoni, included prominent members such as former United Nations Deputy Secretary-General Dr Denis Haliday, as well as genocide scholars, international legal experts and activists. In 2010 the PTT held their first session in Dublin, where Sri Lanka was convicted of war crimes and crimes against humanity.
Read more here.

[ad_2]