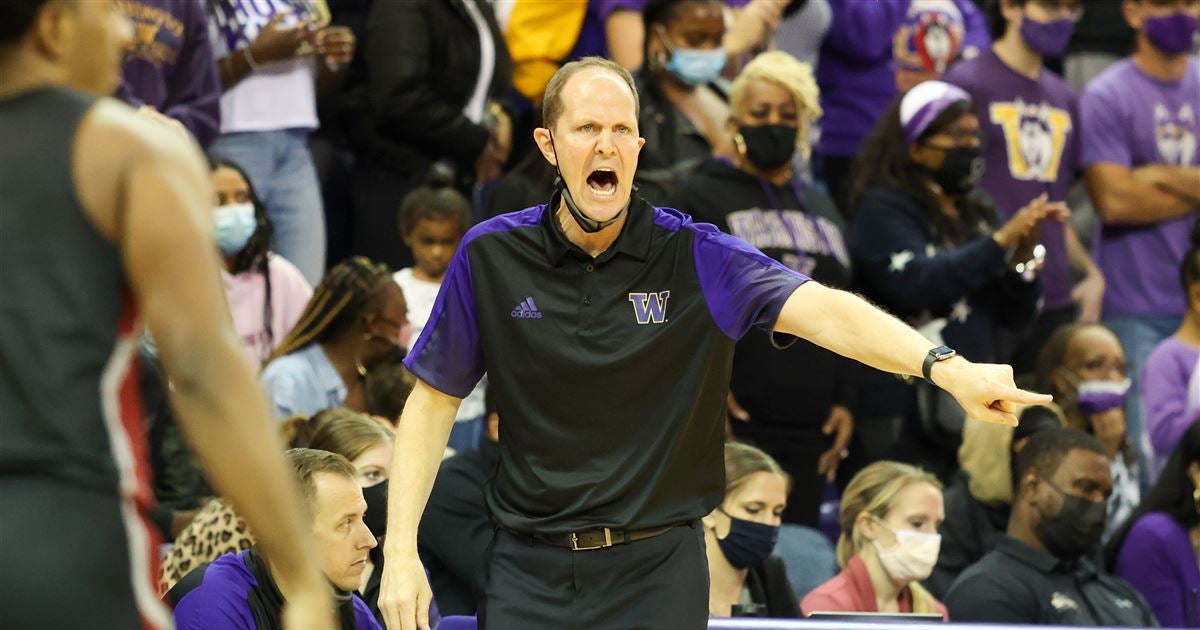 Notes from Mike Hopkins' Monday press conference
mike hopkins met with the media on Monday via Zoom to discuss the latest with Daejon Davis and his right shoulder injury, missing both Pac-12 games due to COVID rescheduling, playing against a hot Arizona State team, playing with discipline and balance amid technical fouls consecutive called in the last two games, and Continuation.
The first question was asked about Daejon Davis, who was injured when he was hit by a screen five minutes after their Sunday loss at Stanford. Hopkins had no update on Davis, who returned to the bench in the second half with his right arm in a sling.
On the postponed matches, Hopkins is grateful they were rescheduled and doesn't necessarily feel lucky to have been the first team to be truly impacted by COVID. But for fans, he's glad the WSU and UCLA games have been postponed. You want to play the games no matter what and you need to be resilient to make it happen.
Have you had an idea of ​​the date of the programming of the matches? There's a policy that you can't play three games in less than 7 nights, so there weren't too many places you could fit them into the schedule. Playing the game against Arizona early really helped us. They talked to us, but we got no real input. But it's so great that UCLA has to come and play us, what a great environment it will be.
Asked about Terrell Brown, Jr. and his work in Sunday's loss, Hopkins said it was not only about what he did, but also about his consistency and his strength of play. He was known to be a scorer. He's all about winning, no matter what it takes, whether it's 50 points or 20 assists. He has a passion and a drive that the greats have.
Can he win Pac-12 Player of the Year? Hop said no one has done more for his team than Terrell, and it's not just in the league. It is at the national level. His level of membership and leadership is incredible.
To have so many departure times at 8 p.m…. Hop said he didn't know if it was good or bad. He just wants to go to games. It's harder to lie down, that's for sure, but it's probably not that bad.
On what went wrong defending the three against Stanford… Hop said they had done a good job adapting their attack, and when they kept seeing the ball drop it was contagious. They had a three shot drink. Needs to do a better job of making it difficult for teams to get good shots on pace.
Not having Daejon Davis and having an impact on your defense… We will have to adapt. PJ Fuller gave us good minutes, but it's not going to be easy. Davis could be Defensive Player of the Year, he had that kind of impact for us.
On technical fouls in consecutive games… The Langston (Wilson) one was after he did a block and he was talking about it. You just have to be more disciplined. We like energy, but we have to be disciplined and just play. We have to keep our composure and balance despite everything.
On Dom Penn and his progress… Came to us last year, getting better every day. When we have so much experience with our starters and other transfers it was going to be hard to find playing time, but he has a lot of talent and we could see his shot on Sunday. Good player.
Did he have to have a conversation with his team about the spitting incident at ASU with the UCLA player? I haven't really talked about this specific situation, but constantly educate our guys to be balanced and disciplined. But in these environments, fans can be brutal. We need to make sure no one is forcing us out of character.
On ASU and after a big win over UCLA… this is a team that has played one of the toughest schedules in the country. They beat Creighton at Creighton, they beat Oregon at Oregon and just beat UCLA at home. He didn't show much consistency, but he also had to bring in a lot of new players. Hurley is aggressive and he wants his guys to play with freedom and attack. They play with momentum. They're playing Arizona tonight so we'll see how it goes.
Taking something away from already playing in Arizona… Hop said they would get a lot out of that tape, but their new coach saw the area a lot in Gonzaga. But we have to take advantage of our home advantage. This time of year is when home advantage is huge for us, especially when we're on defence.
Will Dominic Green make an appearance? I don't know, but if we give him a chance in this building, he'll be fine.