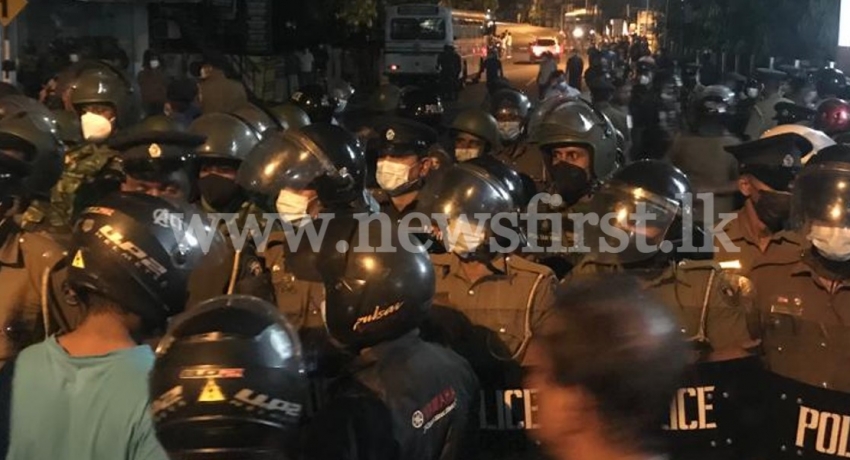 Freedom of the press in danger? several journalists attacked the night of the Mirihana demonstration
COLOMBO (News 1st); Journalists' associations point out that several journalists who came to cover the March 31 demonstrations were attacked.
Thus, Nissanka Werapitiya, Sumeda Sanjeewa, Pradeep Wickremesinghe, Awanka Kumara, Chathura Deshan, Nisal Baduge and Waruna Wanniarachchi were among the journalists attacked.
Journalist Sumeda Sanjeewa, injured in the attack, was detained at Mirihana police station until the previous afternoon (01).
When questioned, he said those wearing army uniforms and civilian clothes both attacked him, but later did not interrogate him.
The journalist was then admitted to Karapitiya University Hospital, while the other arrested protesters were taken to the court complex.
Another person said they were left on the road searching until 4am for a reporter from their company who was allegedly assaulted, and even then footage of STF staff members shouting in the filth and attacking other people were seen.
A journalist's wife said she heard over a mobile phone that her husband was being attacked, and she alleged that STF staff asked through the call why she had sent her husband to the protest.
However, Minister of Public Security (Rt.) Rear Admiral Sarath Weerasekera said that despite reports, only one journalist was arrested, along with video footage proving that this journalist threw stones.
"Journalists are also part of the group of protesters. Maybe that's why they were also attacked. But it has been reported that there is video footage proving that the journalist who was arrested threw stones," he said.
Despite comments by Public Security Minister SDIG Ajith Rohana, the Police Media Spokesperson said that as the subject called riot control is taught to almost all police forces around the world, when he it comes to the management of public disturbances in any country, the same principles are used.
He also said that at a time when there are hundreds of people when police wield shields and batons it is difficult to separate people, however, police have been given clear guidelines not to attack journalists. identified.
Although the police spokesperson for the media said so, many journalists reported that while they were attacked, others who arrived later with iron bars and other weapons did not were not attacked by the police.