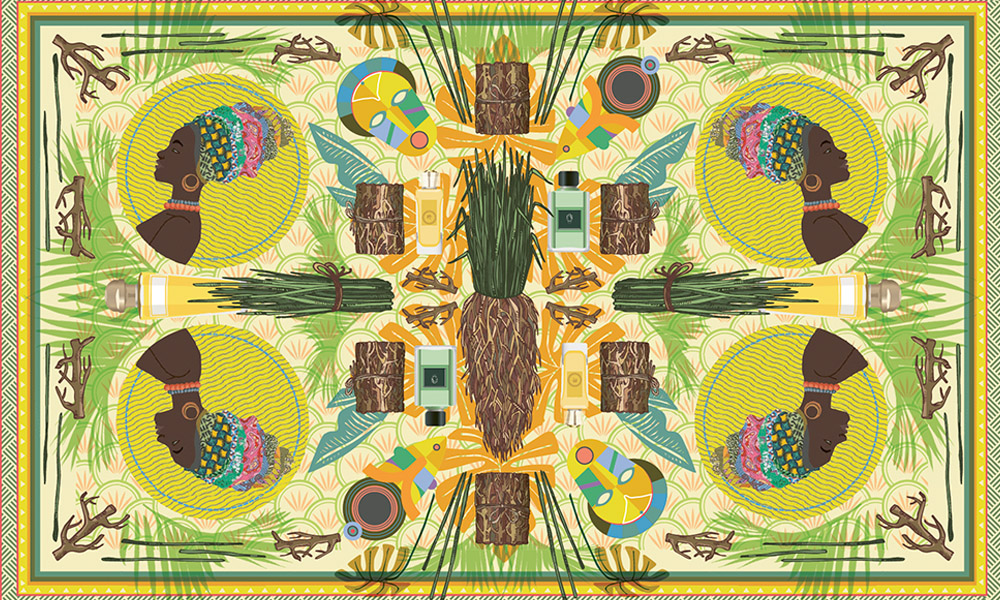 A Master Perfumer's Thoughts on Patchouli and Vetiver
A poetic, geographical and botanical journey to discover perfume.
For perfumers, each scent carries with it a multitude of associations and impressions that must be carefully analyzed and understood before the sum of all its parts emerges. All perfumers have their own idiosyncratic methods, drawn from their individual olfactory experiences, for classifying scents.
In his book "Atlas of Perfumed Botany", the virtuoso perfumer Jean-Claude Ellena takes readers on a poetic, geographical and botanical journey to discover perfume. Ellena offers a varied and fascinating cartography of perfumes, retracing historical links and cultural exchanges. Full-page entries on plants ranging from bergamot to lavender are accompanied by detailed, vivid full-color botanical illustrations by Karin Doering-Froger. Two such entries, on patchouli and vetiver, are excerpted below.
---
Patchouli
Pogostemon Cabin
In 1968, I was 20 years old. Young people of both sexes perfumed themselves with essences of musk that didn't really smell of musk (we didn't know what it really smelled like), sandalwood and patchouli. We rejected the bourgeois values ​​of the world we came from and challenged authority, conventional ways of life, religion and the consumer society. The musk and sandalwood had been chemically made, but we thought we were buying something pure and natural. We went to bazaars and drugstores, not perfumeries. Only the patchouli was real, judging by the cost. Synthetic sandalwood and musk had been exported from France or the United States to India, eventually returning to the West. The low-end bottles with garish colors and imitation gold guaranteed the authenticity of the products in our eyes. It seemed to us that India, a land of great antiquity and home to diverse cultures, was the place where our utopian dreams and fantasies could all come true.
Patchouli was the perfume of our generation. Smelling of earth, undergrowth, youth and freedom, it connected us to the imaginary world born of 19th century romanticism, when the word "patchouli" appeared. In a commentary on Baudelaire, André Guyaux notes that the poet "did not need to go far to find a small jar of heliotrope or tuberose, a sachet of spain skin or a cashmere shawl reminiscent of patchouli thrown on a sofa" to find yourself flying away. We too wanted an earthly paradise that was not artificial. Perfumes that contained such elements in profusion were Patchouli (Reminiscence, 1970), Aromatics Elixir (Clinique, 1971) and Gentlemen (Givenchy, 1974). Fifty years have passed since then, and patchouli no longer has the same motto. Our sense of smell is different now, and our memory has other cues: wax, cigars and pu erhthe emperor's tea.
Perfumers began to use patchouli during the Second Empire; its dried leaves have added value to Kashmiri shawls by imparting a pleasant fragrance and protecting them from dust mites during transport. The aristocracy and upper middle class were so enchanted that an essential oil was soon extracted. From when I was still an apprentice in the 1960s, I remember the giant bales, wrapped in jute. They were opened and the contents scattered on the ground to restore the leaves to their natural state; then we loaded the leaves into shovel stills. The essential oil obtained by this means was called old leaf patchouli Where patchouli paysto mark its difference with the essential oil bought directly in Indonesia or Malaysia, which had a hard and tarry consistency.
Depending on the growing conditions, two or three harvests of patchouli are possible each year. As long as there is no prolonged drought, the price of essential oil remains constant over time. Thanks to advances in distillation, grades of various qualities are available. Among perfumers, an exasperating commonplace is that the use of patchouli dates back to Cyprus, created by François Coty in 1919. But patchouli was used long before.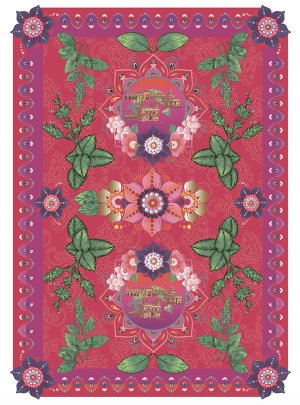 It featured in Guerlain's magnificent Chypre de Paris (1909), which is no longer commercially available, as well as in Shalimar by the same house (although it is not classified as a Guerlain chypres). The term Cyprus started circulating even earlier. Guy de Maupassant's 1890 correspondence with Maurice de Fleury, critic of Le Figaro, praises the perfumer Houbigant for "doing it like no one else". Since I don't know Houbigant's formula, I can't confirm that this fragrance incorporated patchouli. From my modest research — factual documentation is rare in the history of perfumery — Cyprus came into use in hair powders and wigs in the 15th century. The products in question were flavored with musk, civet, ambergris, oak moss, the rhizome of so-called tiger nuts (Cyperus esculentus, which has a scent of violet), the rhizomes of iris and sometimes labdanum; after being pulverized, these substances were combined with starch. Next Cyprus has come to refer to pomanders, "Cyprus birdies" (Cyprus oysters), and potpourri before being prepared in liquid form. In the 18th century, the ingredients were joined by rose, orange blossom, jasmine, neroli (bitter orange), benzoin, tuberose and bergamot – all mainstays of 20th century perfumes.
In due time, patchouli entered the scene. Do Cyprus have a distinct "structure" in the same way as fern perfumes or colognes do? I do not think so. Cyprus is the most controversial family in the trade, and that does not help with the classification. Patchouli is not necessary to create a chypre. Neither does labdanum, although perfumers use it widely.
One point patchouli and labdanum share is a connection to goats: patchouli protects clothing made from the wool of the same goats that rub on bushes that secrete labdanum resin – which people then collect. But this is another story.
---
Vetiver
Chrysopagon zizanoides
Making new acquaintances always gives the opportunity to enrich one's knowledge and learn about human life and the way people live. During a trip to France in 2001, the First Lady of Mali asked to meet a perfumer. The consulates of the two countries deliberated, and I had the honor of receiving the foreign dignitary. On a gray October day, my guest arrived with two bodyguards in Grasse. Her traditional Malian dress was a dazzling yellow with green braided sleeves. She was so tall and elegant that her beauty intimidated me. I invited her to visit the lab, but she refused. From the start, she wanted to evoke her passion for French perfumes and discover all that they contain. Intrigued, I inquired about the role of perfume in Mali. The First Lady told me everything wusulan. This word designates a perfume, an object, as well as a method to perfume one's body. A composition of oil, roots, resins, woods and commercial perfumes is deposited on a burner (wusulan), which is then placed in a room where clothes have been hung to absorb the smell. It is also common for women to wear perfume while standing in a boubou above the censer, so that the wisps of fragrant smoke permeate their body and their skin.
Traditionally, the world of perfume is reserved for ladies, and each has her own special recipe. The more complex and lengthy the process, the better; this should take several days. Among the elements used, the most important is vetiver, the elixir of Malian erotic art. Vetiver is credited with such wonder that dried vetiver wreaths are boiled in water to make a potion, which women imbibe in large quantities so that their skin gives off a subtle fragrance during lovemaking. During our conversation, I also learned that Habanita de Molinard, a perfume invented in 1921, enjoyed particular popularity. Since the perfume formulas are well-kept secrets, Malian women could not have known that the composition contains more than 30% vetiver; their sense of smell did not lie. Just say "vetiver" and you'll hear it's a scent for men. I always protest that it is not true; assigning a gender to a perfume is a mistake in perfumery. Smells have no more sex than flowers. French grammar makes the word jasmine masculine, while Pink is feminine. The smells of these flowers – and of vetiver too – are neither masculine nor feminine; it's a pity that French doesn't have a neutral gender.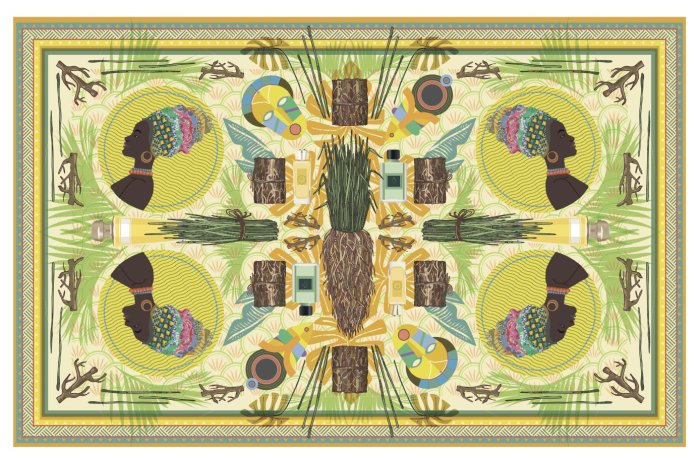 To the best of my recollection, the first perfume for women to have contained vetiver was Habanita (1921); the perfume has long been successful not only in Mali but also in the United States (although I would not be bold to say that the reasons are the same). A more recent fragrance, Calèche (1961) by Hermès, also includes a significant amount of vetiver. Guy Robert, its creator, uses the same principle that he had used the previous year for Madame Rochas; the woody notes of vetiver and cypress give it the seriousness and austerity corresponding to the Hermès brand: beautiful feminine elegance. Vétiver (1959), the first perfume created by Jean-Paul Guerlain — at the age of twenty — was intended for men.
This plant looks like a tall, green tuft of grass without any particular charm. Its attraction lies in everything that remains hidden, underground. Its deep roots help maintain the soil and fight against erosion. Vetiver has long been grown on Reunion Island, but it is also grown in Haiti and now in China. Three grades are produced. Reunion oil, or vetiver bourbon essential oil, has a characteristic scent of matchstick and sulfur. Its Haitian counterpart is similar, but less opulent and oily. Finally, Chinese vetiver oil has a distinct potato scent, which is why it is not held in high esteem.
In India the dried roots are used for curtains which are moistened and placed in windows during the summer. As the air passes through them, it picks up the scent and refreshes the room. Vetiver is also used to make fans and placemats; a few wisps will also flavor drinking water – with no sexual ulterior motive.
---
Jean Claude Ellenathe "nose" of the luxury brand Hermès for fourteen years, has been the creative director of Le Couvent perfumery since 2019. He is the author of the "Atlas of Perfumed Botany", from which this article is taken.